When IHE Heavy Equipment Operator School first started back in 2005, it had one piece of equipment and a single student.  
Today, 16 years later, the college has expanded significantly, now instructing between 20 and 50 students across its three sites every day with a fleet of over 60 machines.
To keep up with demand, the college recently added a new 2021 Hitachi 200 excavator to its Winfield, B.C. location.
Excavators are the most common machine found on worksites across the industry and are used for a variety of different jobs.
"You could find it loading any kind of auxiliary equipment, like crushing of asphalt, loading-trucks, digging any kind of trench, reclamation work and the removal of overburden materials," said Steven Mill, Team Lead and Instructor at IHE Heavy Equipment School.  
IHE's Comprehensive Excavator and Heavy Equipment Operator Training
Excavator training is one of the many courses IHE Heavy Equipment School offers. Through the five-week course, students learn the safe and effective operation of various sizes of excavators.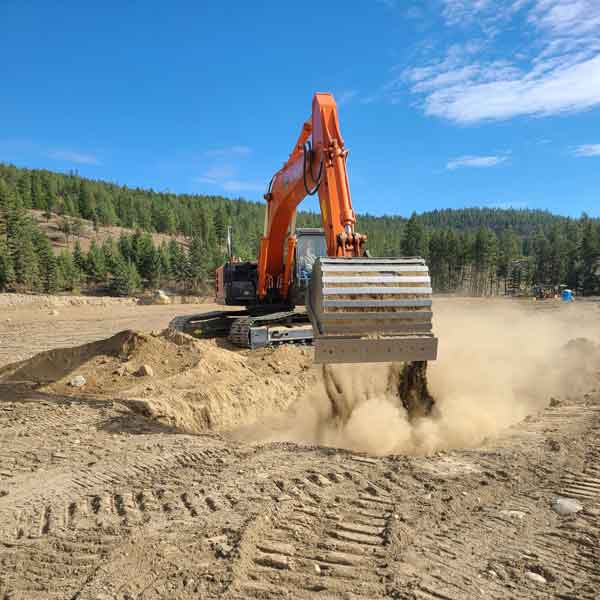 Students receive 115 hours of machine operation shifts as well as online instructional theory. They also take part each day in live online meetings with instructors and students utilizing Microsoft Teams. As students progress through the field portion of the course, the tasks required on the machines become more involved and challenging to ensure that they have the required skills to operate the machine in a real work situation.
Excavator training is also included in IHE's Earth Mover, Heavy Equipment Operator, Full Equipment, and Combination training courses.  
The new bright orange excavator is part of the college's commitment to ensure each student learns on their own machine. The 1:1 ratio ensures all IHE Heavy Equipment School's students get the hands-on training they need to get straight to work and excel after graduation.
Students Excited About Using New State of the Art Equipment
Mill says current IHE students are excited about the new excavator.
"It's a novelty," he says. "Everybody wants to ask questions. Everybody is excited about it. Everybody hovers around and checks it out."
He says instructors are also excited about the new machine too, but they're also a little nervous.
Just like when you get a new car, they want to keep the new excavator in the best shape possible.
"Keeping it brand new is a top priority. Not scratching it, denting it, or damaging it in any way," says Mill. "We're screening the students that we put on it and the tasks that we do with it."
This means that if students want to use the brand-new excavator, they need to earn it. Students will need to prove they can care for it, maintain it, do required operational checks, and have excelled at basic skills first.
"We use it as a reward for students that are excelling. For those that aren't excelling, we use it as encouragement," says Mill. "So, if they're like 'oh, it's a brand-new machine, can I get on it?' We can say 'you know what? Let's work on this for a little bit on this other machine, and when we get there, we absolutely can."
The new excavator has already gotten lots of use since it arrived last week.
"We're running pretty full right now, so we acquired that machine because we need to fulfill our commitments to the students for seat time," says Mill. "You don't share machines at IHE and ever since it got here earlier last week, it has been busy every shift."
Want to learn more about IHE's heavy equipment training? Check out our full list of course offerings or call 1-866-399-3853 to speak with one of our student advisors who will help you get set up with the right training program.