From renting cars to driving excavators…
Megan Evans' journey to becoming a heavy equipment operator started in an unexpected place – a car rental agency.
"I never really saw myself as a heavy equipment operator for the longest time. But I was working at a car rental agency, and we rented out a lot of pickup trucks to people who were working on the gas projects," says Evans. "They would all be coming in for their two weeks on and picking up their vehicles and they were always happy or excited to be going to work."
Evans comes from a family of construction workers, and her father has always tried to get her to consider heavy equipment operating as a career too. But it wasn't until she started talking to these operators that she started to see herself behind the wheel of one of the mighty machines.
"I started talking with these guys and asking them about themselves and about what they did," says Evans. "They just had the best stories about their jobs, which really made me want to get into the heavy equipment operating."
Choosing a heavy equipment school
Earlier this year, Evans decided to make the important decision to invest in her future and set herself up for success in the industry by enrolling in IHE Heavy Equipment College's 10-week training course.  In this course, students learn the safe and effective operation of various sizes of excavators, the loader, the dozer, the grader, the articulated rock truck, and the rubber tire backhoe.
Evans says she loved her time at the school, especially the positive learning environment the instructors fostered.
"I had a great time, and the school environment was really positive," she says. "Steve Mill is an absolutely fantastic instructor. He was always there to encourage me and give me lots and lots of tips and special little tasks. I really appreciated all the instructors and all of their help through the schooling process."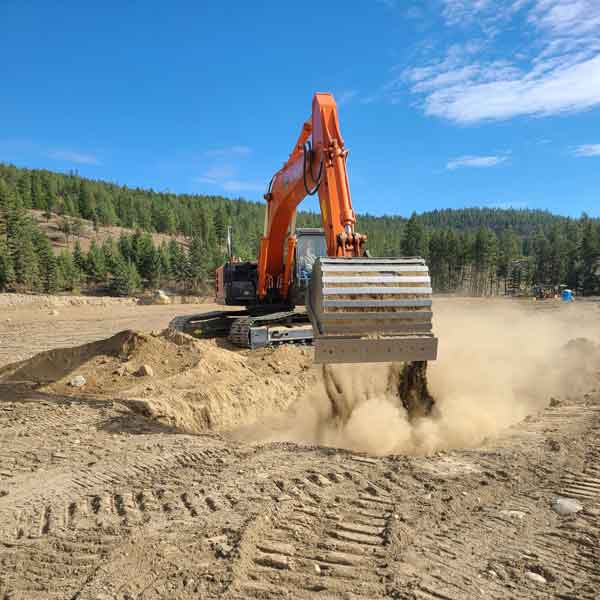 Her favourite part about her time at IHE? Learning to operate an excavator.
"It was super great to learn," says Evans. "It was really fun to do all the different trenches and stuff and every day there would be a new challenge."
Upon graduating from IHE in September 2021, Evans landed a job with a civil construction company in Northern British Columbia. She says her training from IHE has helped her stand out among her colleagues and allowed her to even help some of them out when they needed it.
"I was able to just jump right on and knew exactly how to dump, what was the best way to dump and understanding the paperwork behind it," says Evans. "Whereas for some of [my colleagues], they needed some extra help."
Though she's only officially been in the workforce for several months, Evans says she loves working as a heavy equipment operator and encourages anyone considering heavy equipment operator training to take the plunge.
"It's a really rewarding, really fun industry to work in. Every single day, your work site's gonna look different and you're gonna be able to see progress being made. I find having that in a job is just really awesome," she says.
"So for anyone who is considering coming into heavy equipment, I would say whatever is holding you back, it's not out of the way and just do it."
Ready to start your training as a heavy equipment operator?
Investing in the right training is a big life-changing decision. IHE Heavy Equipment College is here to help.
Every person's journey is unique. Starting from the first contact between a prospective student and the School, IHE's team of student advisors identify courses that will help you and your career goals. They will even help you explore the different funding options available to you.
Call 1-866-399-3853 to speak with one of their student advisors today.